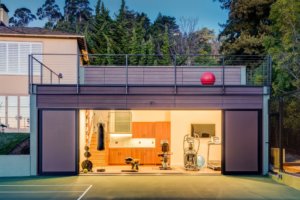 A home gym is an ideal investment for any homeowner. It not only saves gym fees, time and transportation, but it is easier to commit to your fitness routine when the workout equipment is readily accessible. Converting your garage into a workout room enables you to use an ideal space( square and large) and eliminates the need to turn or build an additional place that's better used for other purposes. In this read, we are going to give you tips on how to turn your garage door into a gym in Encino California.
Find Versatile Equipment
Clearly, with less space to work with, you're not going to be able to fit all the workout equipment you would come across at the gym. While shopping for stuff to add to your home gym, keep them versatile for multiple purposes. Bear in mind that an excellent workout includes both cardio training and strength training. With only two groups to focus on, you can pick minimal equipment to fit each need, and this will give you space to breathe.
Install Epoxy Flooring
If you have gone to a professional gym, you must have noticed the softer flooring, which is ideal for absorbing high impact. Typically, garages have concrete floors, and even though it's the cheapest option, they tend to be inflexible and porous. That means over time; concrete will absorb oils, liquids and eventually crack under pressure.
When changing a garage into a home gym, installing epoxy flooring ensures that any dirt will not be a headache to clean and it will absorb any significant impact and shock from the equipment. It will also be favorable to your limbs thus preventing unnecessary injury.
Invest in a Good Fan
Open the garage door is a great ventilation source, but during the colder months, you will need something else to circulate the air. Buying a massive fan will help prevent the wind from becoming stale while providing the cool off you require during your sessions.
Install Entertainment
A home gym in your garage can be less entertaining compared to a commercial one that generally has things like large TV's on the wall to distract people. However, this does not mean yours should be boring. Consider buying a TV or stereo sound system to keep you entertained as you go about your daily workout. The benefit here is that you can control what's playing at all times.
Also, some people like to get rid of garage doors and install a windowed wall. You may want to opt for a lower and insulated ceiling with tiles or Sheetrock for energy efficiency, whether you choose to do away with the garage door or not.
As with any new diet or workout routine, transforming your garage into a home gym can be both enjoyable and intimidating. However, at last, it will undoubtedly be worth it. Make the garage gym the best it can be. It will reward you by saving money, time and energy by keeping the workout room close. It will also leave you with no reasons to postpone workout sessions.
Before the Transformation, whether the garage door is broken is better to fix it first! garage door repair in Encino CA